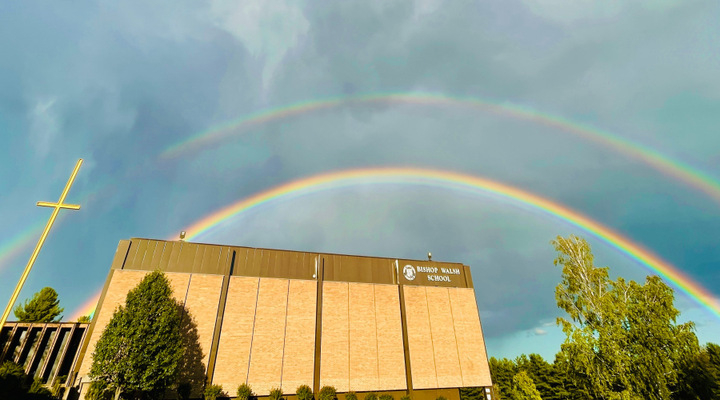 At a Glance
As a Catholic school serving the people of Western Maryland and the nearby communities of West Virginia and Pennsylvania, Bishop Walsh School expresses its philosophy in terms of the educational ministry of the Roman Catholic Church. It is enlivened by the gospel spirit of liberty and charity in which students, parents and teachers cooperate in order to create a community of believers dedicated to spreading the truths of the Gospel of Jesus Christ.
In addition to the pursuit of cultural goals and the total development of their personalities, the school endeavors to assist young persons in augmenting the growth of that new life received at Baptism. It strives to relate all human history to the news of salvation in such a way that the light of faith illumines the knowledge that students gain of the world, of life itself and of human nature. This is achieved through a quality education, stressing the intellectual, cultural and vocational formation of students of diverse abilities through a curriculum suited to individual needs.

---
By the Numbers
1966 Founded
14:1 Faculty/Student Ratio
99% of all graduates go on to college or military
13% international high school population
3 States Served
---
Achievements
Bishop Walsh senior class earns a collective average of $2.5 million in scholarships each year.
Bishop Walsh students taking high school Advanced Placement courses continually scored higher on the AP national exams than other students in the state of Maryland, the nation and across the globe.

Bishop Walsh middle and elementary students traditionally score higher than the national average on standardized testing.

---
Transportation
There is one bus route currently available from Westernport, Maryland.
If your child uses our busing service, the busing fee will be included on a separate invoice along with your tuition invoice and other fees. This must be paid on the 10th of the month or in full at the beginning of the school year.
Please contact the school for pricing information (301) 724-5360.
---
Positive School Environment
To foster a positive school environment where all students are educated in a safe and caring atmosphere, Bishop Walsh School and all Archdiocesan schools follows established procedures for prevention and intervention for bullying, harassment or intimidation.

Positive Behavioral Intervention & Supports (PBIS) has been implemented in every Archdiocesan elementary and high school to enhance academic and social behavior outcomes for all students.
---
Accreditation
Bishop Walsh School is accredited by the Southern Association of Colleges and Schools Council on Accreditation and School Improvement.

AdvancED
All Archdiocesan high schools and elementary schools are accredited as a system through AdvancED. Every five years, the Department of Catholic Schools completes a system-wide accreditation review, which culminates in a visit by an AdvancED External Review Team. Each school is evaluated based on the National Standards and Benchmarks for Effective Catholic Elementary and Secondary Schools.
---
Governance Model
Bishop Walsh School is an Archdiocesan Collaborative School (ACS), which is a model of shared governance developed by the Archdiocese of Baltimore. The ACS model utilizes a shared governance model that fosters unity through the collaboration of stakeholders in support of Catholic schools. The model allows decisions regarding day-to-day school operations to be made at the local level, while individual schools and school administrators are supported centrally from the Department of Catholic Schools and the Catholic Center's Central Services in areas such as academics, finance, development, enrollment management and marketing.