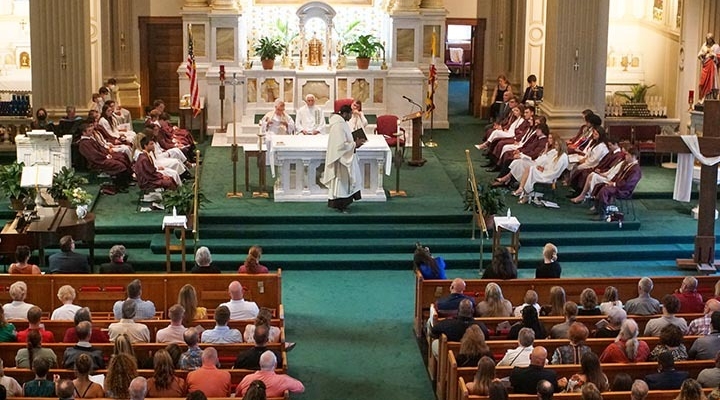 High School (9th-12th)
Bishop Walsh High School course offerings include complete academic programs for the college-bound student.
Credits are assigned to each course. To receive the assigned credits, a student must receive a passing grade in that subject for which he or she has been enrolled. A student may not apply for early graduation from Bishop Walsh School. All students must take a minimum of 7 credit hours all 4 years at Bishop Walsh. A minimum of 24 credits is required for graduation. One credit is equal to 120 clock hours of instruction. The office of Campus Ministry has the responsibility of overseeing the religious activities of Bishop Walsh School. The program of School Ministry addresses three important areas of Christian Formation: Growing as a person of faith, experiencing Christian Community, and reaching out in service.
Bishop Walsh School Course Catalog (Click here for a list and description of Bishop Walsh high school courses.)
High School Book Purchase List
GRADUATION REQUIREMENT AND CREDITS (completed at Bishop Walsh School)
One credit in Religion for each year in attendance at Bishop Walsh- residency courses
Four credits in English – residency courses
Three credits in Social Studies (Civilizations of the World, American Government, and U.S.History)
Three credits in lab-based Sciences (one of which must be Biology)
Two credits in same foreign language
Four or five credits in Mathematics (two in Algebra, one in Geometry, pre-calculus, or statistics)
One credit in Technology Education
One credit in Fine Arts
One-half credit in Physical Education and one-half credit in Health
Electives to complete a total of 24 credits, the minimum number required for graduation.
(We recommend four credits in Social Studies, Science, Math, and Foreign Language. )
THE PHASE SYSTEM
Phase 1 - Courses are designed for students who need emphasis on the skills of the course.
Phase 2 - Courses are designed for students who need moderate emphasis on the basic skills of the courses. These courses are college preparatory.
Phase 3 - Courses are designed for students whose command of the basic skills enables them to pursue a more detailed study of the course material. These courses are Honors level.
Phase 4 - These courses are Advanced Placement and taking of the national exam is mandatory.
HIGH SCHOOL GRADING SYSTEM
The year is divided into four marking periods at the end of which reports are issued. The minimum passing grade is D. To receive credit the yearly average must be D or better. The letter grades and their numerical equivalents are:
A+ 100-98
A 97-93
B+ 92-90
B 89-85
C+ 84-80
C 79-75
D+ 74-73
D 72-70
F Below 70
RANK IN CLASS
Courses at Bishop Walsh School, High School Level, are weighted according to difficulty and assigned quality point values for corresponding grades.
Grade

Phase 4

Phase 3

Phase 2

A+

98-100

4.5

4.25

4

A

93-97

4.25

4

3.75

B+

90-92

4

3.75

3.5

B

85-89

3.5

3.25

3

C+

80-84

3

2.75

2.5

C

75-79

2.5

2.25

2

D+

73-74

2

1.75

1.5

D

70-72

1.5

1.25

1
HONOR ROLL
The Honor Roll is determined by general average. The grade is meant to indicate whether or not the student is working to his or her ability level.
- A student whose quarter grades are all 93% or higher earns PRINCIPAL'S HONORS.
- A student whose quarter GPA is 3.5 and has no grade lower than 85% earns FIRST HONORS.
- A student whose quarter GPA is 3.0 and has no grade lower than 80% earns SECOND HONORS.