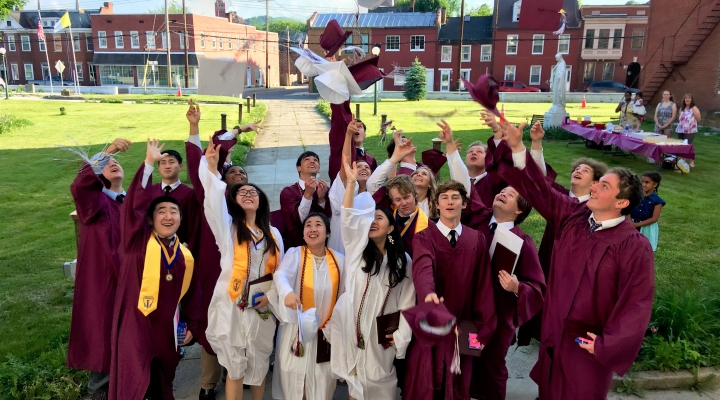 Academics
Bishop Walsh has a 50-year history of providing excellence in education for far Western Maryland and nearby states of Pennsylvania and West Virginia. From PreK through 12th grade, Bishop Walsh's academics are rigorous and student-centered. Our caring and qualified teachers challenge our young scholars to perform at the best of their abilities and think about their futures beyond their days at BW.
Our challenging curriculums are tailored to each learning level: Elementary, Middle and High School.
Elementary (PreK-5)
The Elementary School experience at Bishop Walsh (pre-K through 5th grade) focuses on giving students the strong fundamentals of learning to prepare them for their future academic growth. Our creative and engaging teachers work with students, one-on-one and in groups, to incorporate our challenging curriculum and technology with hands-on learning experiences and fun during these important years.
Middle School (6-8):
At Bishop Walsh, we strive to provide a climate in which the developing middle school student will have the support of caring faculty and staff, the limits of a traditional schedule, clear homework expectations and guidelines for proper behavior. These opportunities are provided in both the academic and social realms. We believe one of the greatest challenges to a student at this age is social development. Middle school students are challenged to cooperate on tasks, seek new adventures of learning and capitalize on the skills of all by working together academically and socially. All students are given the opportunity to do enrichment work if they have met the basic requirements. We view middle school as an adventure and we encourage all students to embrace the opportunity to grow as individuals.
High School (9-12)
High school is a time when students start thinking seriously about their futures. At Bishop Walsh, we give our high school students support by offering an array of advanced placement and honors classes and individualized college planning. Our teachers and professional staff also guide our students while they prepare for that "next step" in their educational journeys. Even though the high school years are a time of self-reflection and planning, we remind our students to look beyond themselves and encourage them to develop a heart of service for their God and His people.
Bishop Walsh's curriculums are college preparatory in nature and challenge our students to think about their academic futures. As a result nearly 100 percent of BW graduates go on to college. While we know that a rounded education is more than examinations, we are proud of the fact that BW students, at all levels, continually place high on national standardized testing.

Giving students access to the latest technology is a priority at Bishop Walsh School. Our PreK and elementary is equipped with a new touch-screen computer labs, while our middle school has constant access to mobile laptops. Our one-to-one iPad initiative equips all students in grades 8-12 with in iPad to use during the school day and at home for school assignments. BW teachers regularly incorporate technology into their classroom curriculum with the use of Viewsonic touch-screen displays. Our school is now the owner of a state-of-the-art 3D printer for by teachers at all levels.

Bishop Walsh offers The Ann and Eugene Pratt Program. This in-school program is a learning support center that meets the specialized needs of bright students, grades PreK-12, who have language based learning differences such as dyslexia and organizational struggles. Encouraging high academic achievement and using research-driven teaching techniques, the program's individualized effectiveness is well established using tools such as the Orton-Gillingham one-on-one tutoring program.
Academic advisement, college/career and personal counseling are offered at Bishop Walsh in a personal or group setting. The department works with students and teachers to schedule appointments. The department coordinates and develops all testing for the Middle School and the High School.

The Jennifer Dunn Jones Early Childhood Center at St. Michael's provides an opportunity for PreSchool and PreK children to develop spiritually, intellectually, socially and physically within the loving and nurturing environment of our Catholic school structure. The Center, under the direction of Bishop Walsh School, is located in Frostburg, Maryland.
Bishop Walsh offers After School programs for students Pre-K through middle school students for an additional fee. An After Care program is available for students who cannot be picked up immediately by parents the school day. In addition, BW teachers offer organized After-School Activities in the Arts and Sciences for various grade levels.