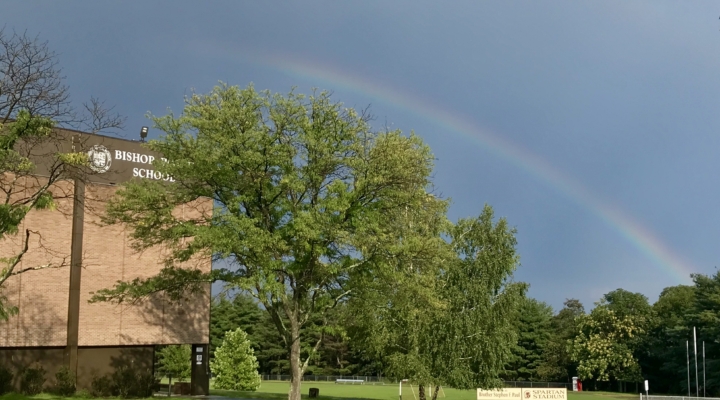 Guidance
Bishop Walsh Guidance Office can assist with academic and personal counseling. Academic advisement, college/career and personal counseling are offered at Bishop Walsh in a personal or group setting. The department works with students and teachers to schedule appointments. The department coordinates and develops all testing for the school.
2023-2024 Test Dates
SAT Dates
See https://satsuite.collegeboard.... for more info.
| | | |
| --- | --- | --- |
| | Registration Deadline | Late Registration Deadline |
| 10/7 | 9/7 | 9/26 |
| 11/4 | 10/5 | 10/24 |
| 12/2 | 11/2 | 11/21 |
| 3/9 | 2/23 | 2/27 |
| 5/4 | 4/19 | 4/23 |
| 6/1 | 5/16 | 5/21 |
---
ACT Test Dates

See https://www.act.org/content/ac... for more info.


| | | |
| --- | --- | --- |
| Test Date | Registration Deadline | (Late Fee Required) |
| September 9 | 8/4 | 8/18 |
| October 28 | 9/22 | 10/6 |
| December 9 | 11/3 | 11/17 |
| February 10 | 1/5 | 1/19 |
| April 13 | 3/8 | 3/22 |
| June 8 | 5/3 | 5/17 |
| July 13 | 6/7 | 6/21 |
Guidance Organizations
Spartan Serve
You Can Make A Difference!
See Ms. Milligan for Information
National Honor Society Eligibility
Junior or Senior BW Student for at least one semester
Cumulative GPA of 3.5 or higher
Must be in the majority of Phase 3 or higher English, Social Studies, Science, Foreign Language, and Math
Good conduct record and must give evidence of character, leadership and service.
Membership in the National Honor Society is a privilege, not a right.
Available College Scholarships
The following are a list of scholarships that annually come into the Guidance Office. Please come see Mrs. Morin if you have any questions about any of these.
________________________________________________________________________
K of C Ladies Auxiliary Scholarship
American Legion Auxiliary Scholarship - daughters of American Legion or Auxiliary members. Deadline is May 1. Applications are in the guidance office.
Niche Scholarships-More information is available at https://www.niche.com/colleges...
Northrop Grumman Engineering Scholarship-$10,000 awarded for one student in Allegany County who plans to study engineering. Student must have a 3.5 GPA and must have a minimum composite SAT of 1700. The application packet can be found online at http://www.northropgrumman.com/CorporateResponsibi.... Deadline is Feb. 4.
College Sports Recruiting Scholarship: A $1000 scholarship is available for seniors who write an essay about leadership on the field or court. The website is www.collegesportsscholarships.....
McKaig Scholarship- Must be resident of Bedford or Somerset County, PA; Mineral or Hampshire County, WV; or Allegany or Garrett County, MD. Applications can be found in the guidance office and the deadline is May 31. Applicants may apply anytime after January 1 for the upcoming academic year. https://learnmore.scholarsappl...
Rotary Club Scholarship - $800 Scholarship available to a BW senior. Application includes a transcript, recommendation, activities resume and financial need. Deadline April 18.
Soroptimist International- Girls between 14 and 17 who have done community service and shown leadership in service organization. $200 plus $100 for club/organization. Deadline is December 1. Applications are in the guidance office.
Powell – Wise Charitable Trust Scholarship – Seniors must be accepted to a college and have financial need. Student must also write an essay about career goals, accomplishments and interests. Teacher recommendations, transcripts and SAT scores must also be included. Deadline is April 30. Forms are in the guidance office.
My Sister's Keeper Scholarship – $1,000 awarded -Must be a graduating senior with a grade-point average of 3.0 or higher and in good academic and administrative standing at his or her current institute of education. The scholarship will be awarded on the basis of scholastic excellence, financial need and community service. Application is available at https://www.mskfoundation.org/...

AES Engineers Scholarship $500 to the winner(s) each year.
Central Scholarship Bureau- This website is a central site for many Maryland Scholarships and interest free loans. https://central-scholarship.or... has awarded over $1 million in scholarships and interest free loans every year. Some of their scholarships have specific criteria, such as GPA level or major, and others are more general. We are looking for students who demonstrate that they are a unique person who will be worthy of the award. The members of the selection committees need to sense that you have something valuable to offer that will be enhanced by support of your college education.
The Rubin Scholarship for Women: Scholarships of up to $2,500 for women at all levels of postsecondary education
Maryland State Council of the Knights of Columbus: https://kofc-md.org/high-schoo...
Supreme Council Scholarships: (ProDeo and Pro Patria) Based on Academic Excellence. Must be son or daughter of K of C member and attend a Catholic College. Deadline March 1. Mail your request for application to:
Director of Scholarship Aid
Knights of Columbus
P.O. Box 1670
New Haven, CT 06507-0901
BURGER KING® Scholars Program criteria
Applicant must be a high school senior who:
Maintains a cumulative grade point average of 2.5 or higher.
Application period: Oct. 15 – Dec. 15
Go to https://bk-scholars.com/

University Tutor Scholarship: A monthly $1000 scholarship is available to anyone 16 years old or older who submits a 300 word essay responding to a monthly prompt. Details are at: http://www.universitytutor.com/scholarship-contest
Wendy's Heisman – B average and participates in sports. Application online at wendysheisman.com. Deadline is October 18. https://heismanscholarship.com...

Fireside Catholic Publishing – A $1000 scholarship for an essay entitled: "How religious education is influencing my life". Deadline Dec. 11. Only one applicant per school on first come first serve basis. Applications in the guidance office.

Equitable Excellence Scholarship – The 2023 scholarship will open in the fall of 2022 with a renewed focus to recognize students who show potential by demonstrating the qualities of leadership, determination and resilience as critical enablers of their future success. To learn more and apply, visit: https://learnmore.scholarsappl...
Abbott and Fenner Scholarship Program
Abbott & Fenner Business Consultants are pleased to be able to continue with our scholarship program. Application Process: Students will submit an essay on the topic that appears on the scholarship page of our web site: http://www.abbottandfenner.com/scholarships.htm
Full details are available on our site.
BigSun Scholarship
The BigSun Organization is proud to be able to continue to help young athletes succeed in their academic pursuits. We are offering an annual scholarship to a deserving high school senior. All student athletes are eligible for this award, regardless of which sport they are participating in.
Deadline - September 30, 2022 Amount of Award - $500.00
Please visit our website at http://www.bigsunathletics.com to learn how to apply.
Cynthia E. Morgan Memorial Scholarship – $1,000 awarded – Must be a Maryland high school student who is a first-generation college student. Also must be planning on attending a Maryland college (or medical school) with a major in a medical-related field. Deadline is February 25.
College of Notre Dame of Maryland – The Monsignor J. Lawrence Kilkenny Scholarship is available to a Bishop Walsh female student accepted at Notre Dame of Maryland. Current amount is over $5,000. Contact the financial aid department at CND.
J. Norman & Margaret J. Reeves Private Foundation. Announcing a total of eight thousand dollars in scholarships to be awarded annually to four graduating seniors from the Tri-Towns and Keyser areas. The awards will be for one year and consist of one thousand dollars for each of two semesters. Applications must be returned to me no later than March 29. The applications will then be screened by the committee and presented to the foundation. The winners will be notified by April 15. If you have any questions, please e-mail Ed Jordan at cejordan@verizon.net or call 301-707-9539 (anytime) or 843-467-2696 (until March 16).
Coca-Cola Scholarship - Apply online at www.coca-colascholarsfoundation.org by October 31. Minimum 3.0 GPA
Dell Scholarship - October 1, 2022 - Application Opens
December 1 - Application Closes
Please visit us at www.dellscholars.org for a complete overview of the program and application process.
GE-Reagan Foundation Scholarship Program Now Accepting Applications
The Ronald Reagan Presidential Foundation, in cooperation with General Electric (GE), has launched a new scholarship program in the president's honor which will provide $10,000 for twenty college-bound high school seniors. The renewable award gives students the potential to accrue $40,000 over four years to use toward the pursuit of a bachelor's degree. Successful candidates should display exemplary leadership, drive, integrity, and citizenship in all aspects of life. Must be a U.S. citizen.
In addition, candidates must:
· Be nominated by an eligible community leader (eligible leaders include high school principals, elected officials, or directors of nonprofit organizations)
· Maintain a GPA of 3.0 (or equivalent)
· Demonstrate financial need
· Use the funds disbursed by the scholarship program for tuition, room, and board while pursuing a bachelor's degree at an accredited U.S. college or university. To apply or learn more about the program, visit https://www.reaganfoundation.o....

VISINE® STUDENTS WITH VISION™ Scholarship Program is offering one-time $5,000 scholarships to students who have demonstrated a clear vision or goal for their future. High school seniors and current college students with a minimum GPA of 2.8 may submit an online application now through September 30, 2022. VISINE® STUDENTS WITH VISION™ Scholarship Program recipients are selected based on academic achievement, school and community involvement, financial need and demonstrated vision or goal.
SECU SCHOLARSHIPS – The State Employees Credit Union of Maryland is offering scholarships for SECU members and family members. An essay is required. Deadline is May 8, 2022. Application is available online at https://www.secumdfoundation.o...
Elks National Foundation Scholarships- applications are available online at www.elks.org/enf/scholars/mvs.cfm. Bases on grades, leadership and financial need. Deadline is February 6, 2023.
Susan G. Komen Scholarship
Applications for the $10,000 scholarships will be accepted until December 31, 2022. These awards aid college students facing significant financial burdens due to the loss of a parent (or guardian) to breast cancer or their own breast cancer diagnosis at age 25 or younger. The scholarship awards $10,000 per year (for up to four years) to a student to attend a state university in pursuit of a bachelor's degree. Komen scholarship recipients are selected based on scholastic achievement, community service, financial need and demonstrated leadership potential. Scholarship recipients serve as Komen Collegiate Ambassadors and must volunteer their time to breast cancer awareness activities for at least 20 hours per semester.
UPMC Western Maryland Health System Foundation and the WMHS Auxiliary -The UPMC Western Maryland Health System Auxiliary offers a few scholarships for students accepted or enrolled in a health care curriculum. For an application and more information visit https://www.wmhs.com/foundatio...
Alliance to the Allegany County Medical Society: Scholarship for a student pursuing a Health Related Career. Need transcript, letters of recommendation, personal statement, and financial information. Applications are accepted July 1 - September 30. For more information visit https://www.foundationpamedsoc...
Horatio Alger Association Scholarships – Criteria includes desire to earn a bachelors degree, critical financial need (less than $50,000 family income), involvement in activities, strong character and GPA at least 2.0. Apply online at www.horatioalger.org/scholarships
The Thurgood Marshall College Fund (TMCF) and Truist are proud to offer financial assistance to outstanding students attending Historically Black Colleges and Universities (HBCUs). Forty-Five (45) scholars will be selected to receive a scholarship up to $10,000 for 2022-2023 academic school year, which can only be applied to verifiable costs associated with average tuition and usual fees. Visit https://www.tmcf.org/students-...
Maryland Mensa -- A $1,000 scholarship is awarded to a student for writing an essay. You do not have to be a member of Mensa to apply. Application is online at www.mensafoundation.org/scholarships .
Hamilton Relay Scholarship is for graduating high school students in Maryland who are deaf, hard of hearing, deaf-blind or have difficulty speaking to assist in their goals of continuing their education. Hamilton Relay selects one candidate from each of the states where Hamilton is the contracted service provider. All candidates are required to submit an application, write an essay under the topic of communication technology and provide a letter of recommendation in order to qualify. The application documents can also be found online at www.hamiltonrelay.com. The scholarship deadline is January 31, 2022 and applications must be received or postmarked by this date. The scholarship is in the amount of $500 and the winner will be determined on or before April 30.

The State Farm Good Neighbor Scholarship does not require a high GPA, but rather focuses on students who are leaders and volunteers in their communities and demonstrate financial need. Applicants must meet the following criteria: Be a graduating high school senior, must have a cumulative GPA between a 2.5 and 3.2 on a 4.0 scale and plan to enroll full-time for the 2022-2023 academic year at an accredited 2- or 4-year college, university or vocational-technical school. Must be a U.S. citizen. https://www.scholarshipamerica.org/statefarmgoodne...
Varsity Tutors Scholarship: A monthly $1000 scholarship is available to anyone who submits an essay responding to a monthly prompt. Details are at: http://www.varsitytutors.com/college-scholarship
Dogs By Nina $1,000 "Show And Tell" Scholarship
Awarded to any college student (graduate OR undergraduate) who has a pet they love. How To Apply:
Borrow a Friend and a Video Camera (a phone camera qualifies, too!!!)
Borrow a pet (if you don't have one).
You and your pet get on the camera and tell us about your favorite memories. Bonus points if your pet actually talks ! (Ok, so we're kidding on this point. A talking pet might be creepy)
Upload the Video to Youtube

Title the Video "Dog's By Nina $1,000 "Show And Tell" Scholarship"
Put a link to http://www.dogsbynina.com in the description area.
Send us the link where we can watch your video to nina@dogsbynina.com
Include: Your Name, College Name, College Year, Major, Email and Phone Numbers we can reach you at.
ACLS Medical Training Scholarship: available to senior going into a medical profession. Go to: https://www.aclsmedicaltraining.com/scholarship/
What's your dream?
It's crazy to think of all the amazing stories that happen as soon as we close our eyes and drift to sleep. Did you have a dream that was off-the-wall, or maybe it was so real that you didn't know you were dreaming? Maybe you dream of a successful future or reaching your goals. Whatever your dreams might be, they could help you towards getting a scholarship for your college education. One "dreamer" in our I Have a Dream Scholarship Scholarship will receive $1,500 to help make his or her educational dream come true. Applicants must:
Be thirteen (13) years of age or older at the time of application
Be legal residents of the fifty (50) United States or the District of Columbia
Be currently enrolled (or enroll no later than the fall of 2022) in an accredited post-secondary institution of higher education
Submit an online short written response (250 words or less) for the question:

"We want to know... what do you dream about? Whether it's some bizarre dream you had last week, or your hopes for the future, share your dreams with us for a chance to win $1,500 for college."
Frank H. Eberly Memorial Scholarship is available to graduating high school seniors who are enrolled in public or private schools in Garrett and Allegany Counties Maryland. Two scholarships of $1,000 will be awarded. Applications are available in the guidance office.
Spencer W. Graham Memorial Scholarship- Must be member of Woodmen Life (Woodmen of the World). Essay on why you want the scholarship plus college acceptance letter and application in guidance office.
Marion Community Foundation - More than 140 scholarship funds comprise Marion Community Foundations annual Scholarship Program. More information may be found here https://marioncommunityfoundat...
Maryland Emergency Management Association Scholarship available to a senior planning to major in emergency management. Applications must be submitted by April 8, 2022 for consideration. https://www.marylandema.org/ne...
The Recovery Village Health Care Scholarship - To enter to win a $1,000 scholarship, simply submit a short essay (no more than 500 words) describing why you are passionate about substance use disorder and mental health treatment. Essays can be in the form of a personal narrative with a medical perspective or focus specifically on clinical experience. Do you have a compelling recovery story? Have you witnessed the challenges that addiction can present, or helped someone overcome substance use disorder? Share your experience and describe why you are eager to enter the health care field for a chance to be awarded a $1,000 scholarship.
The Dirk Derrick Car & Truck Accident Injury Scholarship is an award for any current or soon-to-be undergrad who has had his or her life altered due to an injury from a car or truck accident, be it their own injury, that of a loved one, or an influential individual. The Dirk Derrick Scholarship has a brief submission process, and applicants will be judged on their ability to convey the lasting effect an auto accident has had on their life as well as their journey to overcome those challenges.

AddictionResource.net: The $1,000 scholarship is for full-time students pursuing an Associate's, Bachelor, Master, or Doctorate degree. A first and runner-up prize is available through an essay contest, highlighting a subject that is common amongst students, binge drinking on college campuses. We believe that all students should be aware of the harmful effects of binge drinking and hope that this essay contest will help raise awareness on this issue amongst their peers. More details at:https://www.addictionresource.net/scholarships/
Top Scholarship Databases