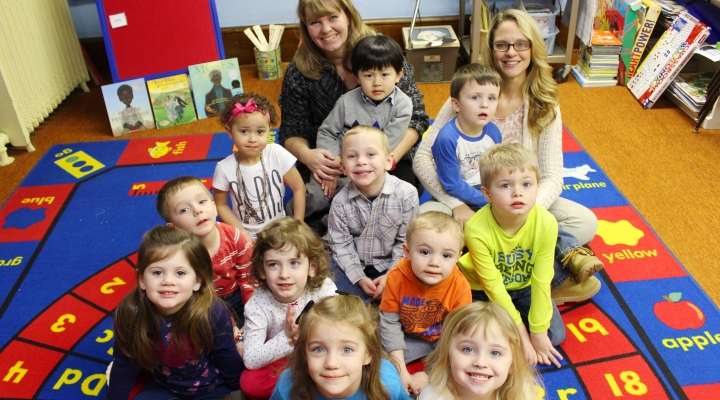 Jennifer Dunn Jones Early Childhood Center
(Located at St. Michael, Frostburg)
The Jennifer Dunn Jones Early Childhood Center at St. Michael, located in Frostburg, Maryland, provides an opportunity for your child to develop spiritually, intellectually, socially and physically within the loving and nurturing environment of our Catholic school structure.
Students in our early childhood courses are introduced at a very early age to a myriad of experiences designed to develop the whole child. In PreSchool, name recognition, matching, and identifying colors and shapes prepare our youngest students for a lifetime of successful learning. Outdoor play, following directions, and sharing are keys of social and academic growth.
PreK students begin counting, letter and number recognition, and simple addition and subtraction, combined with art projects, computer lab and library visits, outdoor activities, dramatic play and field trips connect with your child's individual talents, interests, and abilities. Basic Christian values of respect for self, peers, and adults, love of learning, and sharing with others are constantly taught throughout each school day.
Parents are given many opportunities throughout the school to learn and grow with your child. Meaningful parent involvement provides a bridge between the home and school and aids in the successful development of social and cognitive development of each individual child.
Located at:
56 E. Main St.
Frostburg, MD 21532
301-689-2155

Faculty
Vanessa Kelly, Director/Lead Teacher
Vanessa Kelly attended St. Michael's Catholic School and is a member of the parish. She is a cum laude graduate of Frostburg State University where she earned her Bachelor of Science degree in Early Childhood/Elementary Education. Vanessa's past positions include serving as director and lead teacher of Kids Korner Quality Childcare and Learning Center in Frostburg and teacher associate/lead teacher substitute for Allegany County HRDC's Head Start program.

After School Program $5/hour as needed